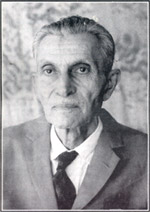 Prof. J. K. Mehta
(14 Dec. 1901 - 9 Aug. 1980)
The Indian Journal of Economics was established by Prof. H. Stanley Jevons of the Department of Economics, University of Allahabad. The first Issue of the Journal, appeared in January, 1916.

The Journal is published with the three-fold object of providing a medium for the publication of articles on economic problems by authors of academic standing or authoritative positions, furnishing a convenient and compact vehicle for publication of original investigations and disseminating information about the economic activities of India and other countries. Its scope has been generally extended since then so as to cover every branch of economic science. During the past 90 years, the Journal has succeeded in developing many debates on various aspects of Economic Theory and Policy.

Since 1949 the Indian Journal of Economics disassociated itself with the Indian Economic Association but has continued with its uninterrupted publication till date, and has wide national and international circulations.

The articles and findings received for publication are regularly reviewed by experts before being accepted for publication. The Authors of accepted Papers receive 20 Reprints of their Paper, free of cost. The Journal also publishes Book Reviews.

The Indian Journal of Economics is Registered with the Registrar, News Papers of India (Regd. No. RN.28648/75) and its ISSN is 0019-5170.
The Journal encourages exchange with other professional Journals of Economics on long term basis.
(Prof. M.M. Krishna)
Managing Editor